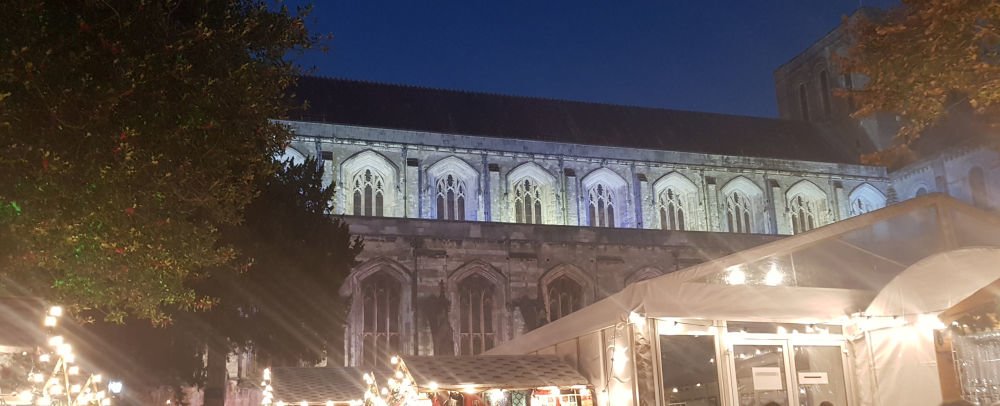 Dave Noble
Managing Director
Which events have you recently supplied power to that "stand out"? (Within the last 3-4 months)
What equipment was required/What did you supply?
What were some of the main considerations when it came to supplying the right type/correct amount of power for this event? How did you work with the organiser to ensure all objectives were met?
What challenges were there at this event, and how did you overcome them?
Winchester Christmas Market opened mid-November. It's bigger this year, again, and we provide all the mains cabling, into the ice rink, the food court and for the 100+ traders' chalets. On top of that, we design, supply and power the lighting outside the cathedral and other architectural lighting around the site.
It's almost a 12-month job now, in terms of planning, with a long, complex build at the end, working around other suppliers and the city's own priorities.  We run cable under the ice rink just before it goes in, for instance, and at the cathedral among the weekly events there.
For us, the main consideration is the length of cable runs, understanding what's going on in each area and balancing the loads. It's our 7th year supplying the event and we have a close relationship with the client and with all the teams involved.
The distribution system at Winchester Christmas Market is close to 1MW of power. Solely from mains supply, we also supply emergency backup via a 220 KVA on automatic mains failure system for the chillers on the icerink as well as emergency lighting and PA for announcements.
In your opinion, what should event organisers be doing to reduce the carbon footprint of their event? What options are available to them and how should they begin to tackle the issue of reducing fuel usage/energy efficiency at their event?
Event power is high use for a short period of time, which doesn't play for battery and solar solutions and good bio-diesel is pretty much impossible to find in any quantity at a viable price. Instead, it's about using good generators efficiently. Organisers need to make sure their supplier is using modern Stage 3A engines in their generators at the optimum level.
We have been tracking our machines' performance for six years, all of them have a monitoring system on board, either JCB Livelink or DSE Gateway, so we can watch what's going on in real time, and historically, improving efficiency on site and downsizing in year two for example. It's a process of comparison and education.
What do you think are some of the reasons why some event organisers have not embraced greener power?
Out of all the people we deal with in the events market you can count on one hand the number who actively engage about how to do better in terms of emissions, so the client, the organiser, still has plenty to do.
Like everything else, this market is budget led. There's a whole lot of 'green wash', out there, people nodding at doing the right thing until the money takes precedent. So many power companies don't own their own machines. They quote cheaply but can't offer a full service.
What should organisers be asking of their power suppliers in terms of power savings/energy efficiency? How can they/should they be monitoring power usage to influence the requirements of future events?
In 2019-20, the new Tier 5 engine EU standards come into play. It's a great target to have but it's a massive jump at the same time. As much as anything else, those machines will be 30/40 per cent bigger and 30/40 per cent more expensive, on top of which any transition won't be monitored properly.
Instead, let's concentrate on getting Stage 3A engines out there. Clients should be talking to their suppliers and finding out what engines they're supplying.
There are still a whole lot of machines in the hire loop that are in breach of current standards, pumping out pollutants far in excess of where we should be by now.