Louder Than Words
It's trite to say 'the world is changing' but, by and large, that's because the observation is used to describe the job market, education, politics etc etc. Pieces, if you like, rather than the surface the game is played on.
The UK is on the threshold of Stage V emission standards an EU initiative that will 'remain'. Our big cities – London, Glasgow, Nottingham, Birmingham and Oxford among them – have low/ultra-low emission zones already and construction/events need to switch on. Midas made a conscious coupling with Himoinsa in 2017.
A multi award-winning designer, manufacturer and distributer of power generation equipment, Himoinsa's commitment to sustainability, to delivering and developing machines for the new era, is a sure fit with the Midas mantra and we're delighted to have its revolutionary gas sets in the shop window.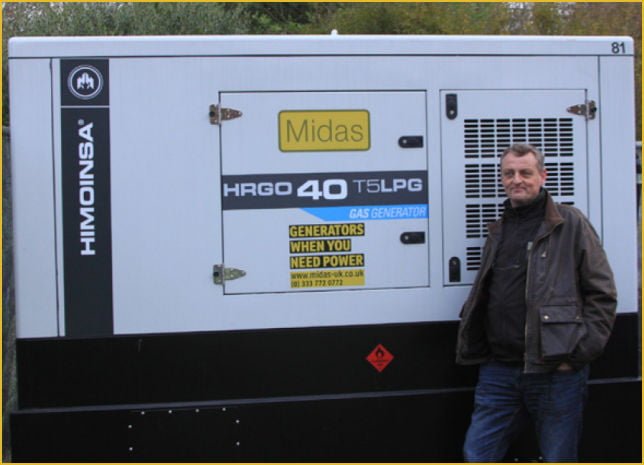 Safe, incredibly efficient – producing zero NOx and slashing CO/CO2 far below the leanest, greenest diesel sets via a threeway catalyst – reliable in all conditions,
this is the one system available to rent that meets all the Stage V standards.
"We took a 40kVA gas set to the Royal Botanic Gardens, Kew at the end of 2019 to power elements of Christmas at Kew's 1m lights," Midas' managing director, Dave Noble, says.
"We're increasing the numbers in our fleet at the moment but at the time it was the only hire machine of its kind in the country, which is a pretty incredible statistic. A perfect fit with Kew's environmentalism it impressed and we will go back there with more in 2020.
"LPG generators don't have the recurrent cost or the complication of Stage V diesel engines, which are still some way from coming on stream. This is proven technology and we're delighted to be leading from the front."
In step with the construction model there has been a whole lot of planning, and a degree of posturing, behind schemes designed to 'make a difference' in how the live events machine contains/controls/diminishes its emissions.
That's great to see. Some lessons for all of us to learn. We need to take action though. Directly. The world is changing, Midas wants to play a part in powering that progress and we have a foot on the gas…