Himoinsa Rental Range
HIMOINSA generator sets for the rental sector combine the robustness and versatility that rental companies need. Its equipment is designed for use in applications of all kinds: from generator sets for construction, for the mining sector or the oil sector, to generators for concerts and large events, such as the football World Cup, Formula 1 or even the Olympic Games, which require gigawatts of power on demand for limited periods.
Transportability
Simple to transport, thanks to the unique lifting points and forklift rails, avoiding bending and displacement of components during lifting. CSC approval for maritime transport.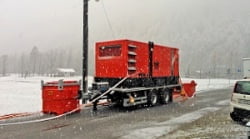 Weather Resistance
Designed to deal with rain, ice, snow and high temperatures. Results which have been obtained without sacrificing acoustic performance or the ventilation and cooling ability of the engine which is guaranteed up to 55ºC (derating applicable).
Easy to Manage
Equipment designed with a user interface that is simple, user-friendly, intuitive and effective.
In this scenario, emergency power plays a very important role. The figures speak for themselves. Stand-by applications will account for 53% of the power generation market in 2020. The reason is very clear: data centres, hospitals, shopping centres and residential areas are mission-critical applications, where an outage has a huge impact on the activity of the company, organisation or institution, which cannot afford an outage in their electricity supply. (53% stand-by, 36% PRP, 11% Peak Shaving. Source:  Marketsandmarkets)
Soundproofed Generator Sets
1. Soundproofed canopy
2. CEM7 controller
3. Lifting eye
4. Exhaust
5. Forklift rails
6. Connections for external fuel tank
7. Movement skid integrated into the chassis
8. Distribution boxes
1. Emergency stop.
2. Fuel filter with decanting separator.
3. Oil extraction pump.
4. Permanent magnet alternator.
5. Handhole for chassis cleaning.
6. External filling of the fuel tank with safety key.
7. Lifting eye.
8. Battery disconnector.
9. Handhole for cleaning and draining the fuel tank.
10. Preinstallation to house the quick connection plugs for fuel transfer.
11. Three-way valve kit and quick connection plugs for fuel transfer.
12. Exhaust outlet guard.