Himoinsa Heavy Range
The heavy range of generator sets are the power workhorses that institutions, hospitals or financial organisations need. A power outage of a few minutes can incur substantial financial losses for a bank or have serious consequences for the safety of patients in a hospital. High-power generators are required that can supply emergency power to a building in the financial hub of Geneva when a power cut occurs, or continuous power when needed to carry out electrical maintenance tasks in a canning factory that cannot stop production.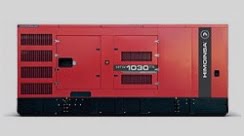 Synchronicity
HIMOINSA supplies the energy for a unique show in Dubai Festival City. A complexity of the project is the rapid and continually changing load, due to the very nature of the spectacle. HIMOINSA offered a solution of three HTW-1745 T5 generator sets. These start up, synchronize and provide up to 5.2MVA of PRP, acting all the while as a single source of energy.
Smaller Space
HTW-1030 T5, same power, less space. The company's Engineering team has been able to reduce the size of this model by 8.5 cubic metres to fit it inside an L canopy (5,960 x 2,250 x 2,555 mm), adding one more soundproofed constructive version to the already existing 20-foot container (6,058 x 2,438 x 2,896 mm).
Capacity Market
HIMOINSA heavy range generator sets are currently used for peak shaving in the United Kingdom, in Capacity Market projects to support the public grid and to work in parallel with it for one or two hours a day and thus cope with the increased energy demands the country is seeing.
The HIMOINSA heavy range consists of powerful and reliable generator sets of between 650kVA and 3,500kVA.
Several construction versions are available: standard canopy and 20 and 40 ft containers with wide access doors for maintenance. Depending on the power supplied, the installation site conditions or logistics and transport needs, engineers determine which version is best for each project.